FREE BOOK "SUMMER COLORS" DOWNLOAD
Hello Friends,
I have created a free gift for you.
It is a 30 page digital book called SUMMER COLORS.
The flowers of summer are a predictable parade, and their lives are so short. Flower lovers anticipate each one. There are the spring flowering bulbs, and the blossoming trees, but as we make the transition to warmer weather we are treated to the peonies, and then the iris, and the roses of course, which are always the best in the spring. The poppies and the lilies follow. The gardens are filled with all kinds of daisies, zinnias, and black eyed Susan's. As we wait for the tomatoes, we also wait for the dahlias, the queen of many gardens. As the weather cools, the roses shine in their glory!
Share this parade with me as you enjoy my gift for you, SUMMER COLORS.
In order to get the link, Go to: FREESUMMERCOLORSBOOK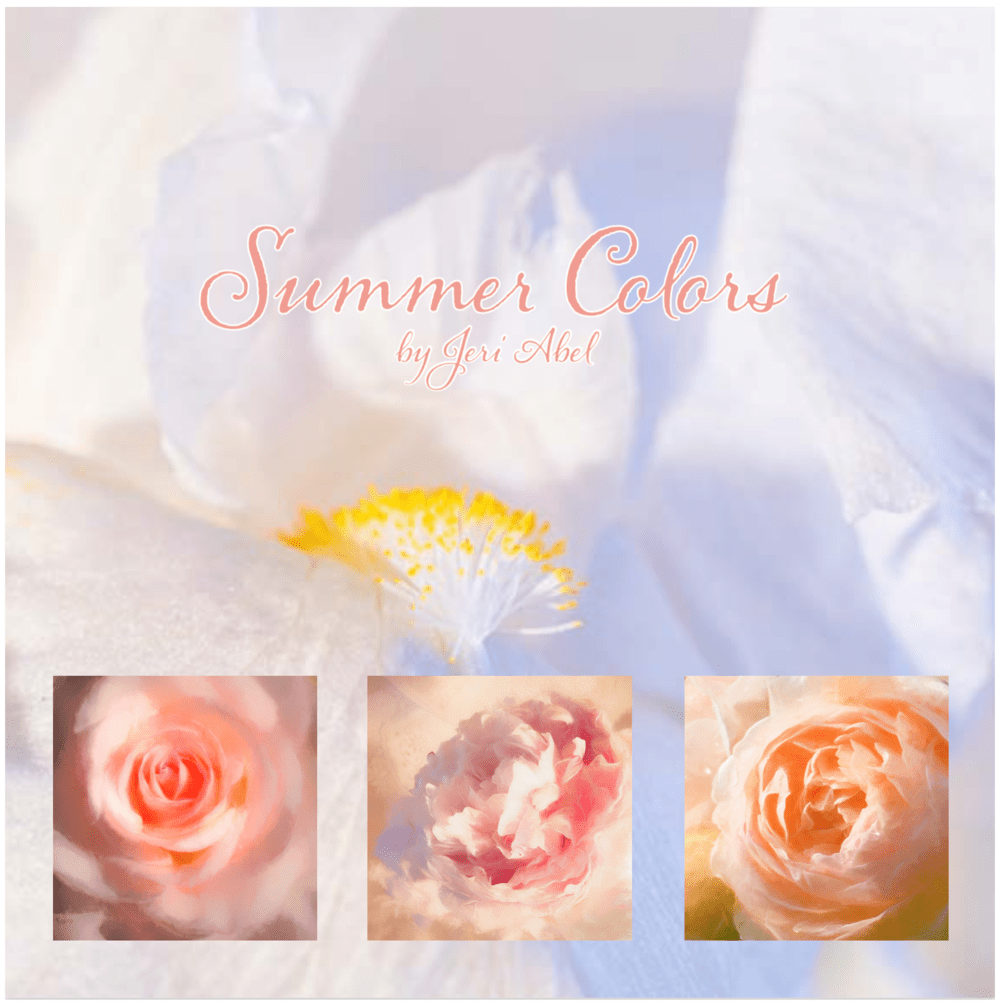 Also I have included each image in the book on my website and until September 22 there will be a 25% discount on the SUMMERCOLORS COLLECTION. When you receive your link to the book by email there will also be a coupon code for the discount.
Thank you again for joining my Collectors Circle and being a part of my journey. And Enjoy!
If you know someone who would also enjoy this, please share. Here is the link where they can sign up to join my Collectors Circle and have it for free. FREESUMMERCOLORSBOOK
---
By- the way...
In my last newsletter I asked a question. I asked if you had treasures that you would like to be immortalized in still life wall art. I had a wonderful experience last week helping Marjan create a unique and special still life.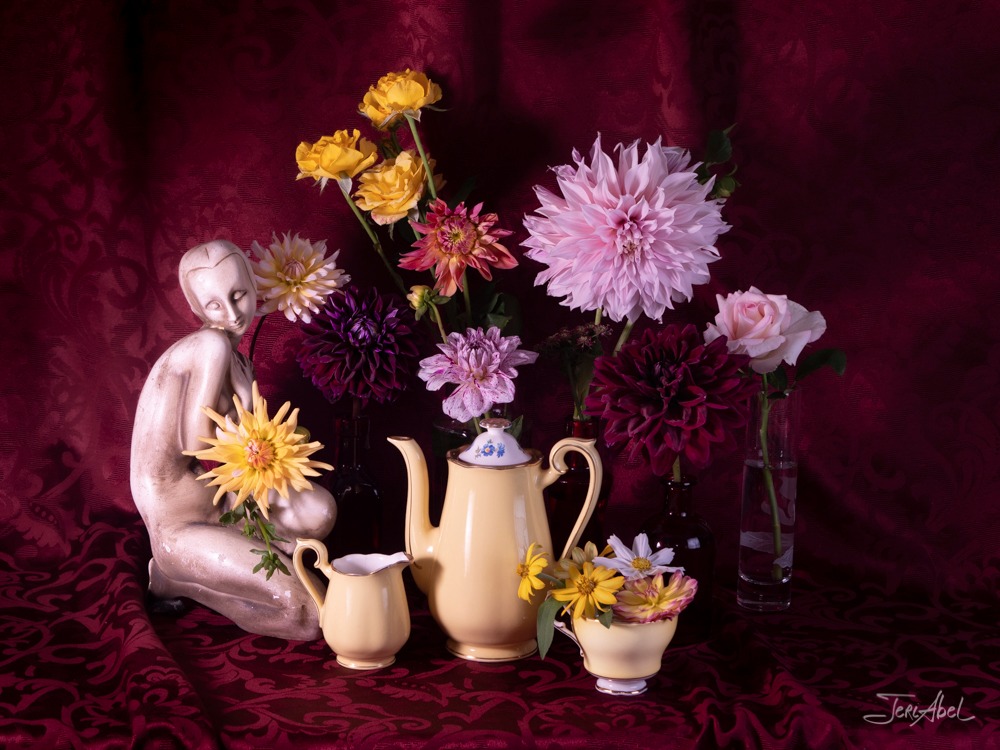 Marjan's family comes from Holland, and she herself was born there. She was too little to remember the trip.
Marjan told me, "As long as I can remember those items have been in my grandmother's house. Whenever I visited I would always look for the girl and stare at her for a while. The teapot was always on the kitchen table and was used."
All that is left is the teapot and the creamer. The sculpture has survived with battle scars.
Sometimes things disappear, and you don't have your treasures anymore. So it is nice to have them in another form.
Marjan was able to come to my house because she lives close, and we spent time in the garden and chose the flowers that she wanted to include. Then we went to the studio and created the arrangement. She has a good sense of design. She decided on the red Jacuard background and got to place the flowers and the sculpture and the teapot just so and with a little guidance she created this beautiful still life.
What do you think? Isn't it beautiful? This image will be a limited edition print of only 10. Here is the link if you would like to know more. DUTCH TREASURES
I have included a lot of my treasures into my still life photo paintings. They are a reminder of special times or people.
So, if you have treasures that you would like to immortalize, so to speak? Would you trust me to tell your story in a painting? If you have, then please reply to this email and we will work out a plan.
Thanks for listening.
Until next time, Jeri Abel
Don't forget, the discount on the SUMMERCOLORS COLLECTION will be good until September 22. I know it is a busy time, but please check it out.